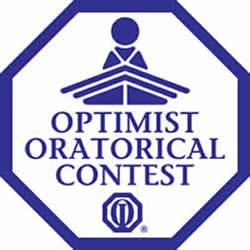 The GEO Oratorical Contest Committee is now seeking entries for the Optimist International 2019-2020 Oratorical Contest. The Optimist Oratorical Contest gives youngsters the chance to speak to the world. More than $150,000 in college scholarships are awarded annually from this program. First conducted in 1928, this is the second most popular Optimist International Program. Nearly 2,000 clubs participate in this program each year. The first through third place winners at the Club level each receive medallions to be presented at a special awards banquet. Zone and Area contestants receive certificates and the District first place winner receives a $2500 scholarship, second place winner a $1500 scholarship, and third place winner a $1000 scholarship. Click HERE for Oratorical Publicity Brochure.
Topic: "Just iMagine a World without Boundaries"
When: Club Deadline March 8, 2020
Who: Youth under the age of 19 as of October 1, 2019 (and is not enrolled as a degree seeking student of a post-secondary institution) in the United States, Canada, or the Caribbean. There is no minimum age.
Contestants are to write and deliver a speech on the official Optimist International topic; each speech must be four to five minutes in duration, and given in front of an audience and three judges. Optimist members and qualified members of the community are selected to be judges. Our club's first and second place winners will then compete at the Zone level. The winner of that contest will next move to an Area contest (consisting of Zones in the same geographical area) where the winner goes on to the District finals held at the PSWD 3rd Quarterly Meeting in May 2020. The District winner is then entered into the Optimist International World Oratorical Championships with the potential of winning $22,500 or more in scholarships.
If you know of a youth who may be interested in entering our club's Oratorical Contest, please click HERE for an official entry form or contact Jim Carroll, Oratorical Chair, at (310) 415-0196 for more information.
Entry forms may be scaned and emailed to: gardenaoptimist@gmail.com
Or mailed via USPS to:
Gardena Evening Optimist Club
P.O. Box 2132
Gardena, CA 90247
Attn: Oratorical Chair